Catalogs.com Departments

News & Articles

Sculptors Supplies - Utrecht Art
Create masterpieces with sculptors supplies
Create something truly unique with sculptors supplies that offer professional grade quality at an affordable price. Whether you're a professional who works with stone or an amateur experimenting with clay, you're sure to find the sculptors supplies you need.


From the Venus de Milo to the David, famous artists like Michelangelo have long since mastered the art of stone sculpting. Although you may never create a Louvre worthy masterpiece, you can pay tribute to the master sculptors that came before you by using high quality sculptors supplies to create your very own work of art.


... read more


This catalog is currently out of stock.


Please search through our categories for another catalog.


- or -

Shop for sculptors supplies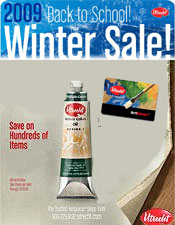 More About Sculptors Supplies - Utrecht Art:
Other great Utrecht Art departments:
Whether you just want to experiment in creating a simple ash tray or you want to attempt to sculpt the face of your friend, sculpting clay is the only way to go. The sculptors supplies offered at Utrecht Art offers a number of different clays, including natural clay, modeling clay, polymer clay and more.
Put the finishing touch on your clay sculpture with high quality glazes. You'll be able to find a number of various glazes, including earthenware glaze, stonewear glaze and more! Don't settle for cheap imitators. Utrecht Art is known for supplying artists and students with high quality art supplies at affordable prices. Find sculptors supplies whose quality you can trust.