Catalogs.com Departments

News & Articles

Halloween Dance Ideas - Stumps Spirit
Halloween dance ideas make a spooky, fun time for all
Make sure guests have a spooky great time at the next Halloween dance with these cool Halloween dance ideas.


What do you think of when you think of Halloween? These Halloween dance ideas are sure to make you think of the creepy and the crawly. An October dance is nothing without cobwebs, which you can drape over tables, chairs and hang in doorways to add to the fun.... read more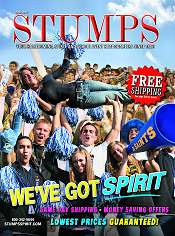 More About Halloween Dance Ideas - Stumps Spirit:
Other great Stumps Spirit Catalog departments:
Set up outdoor decorations to set the macabre mood before guests even get inside.


Build a haunted house as part of the freaky festivities. Create a scary scene with a spooktacular cemetery that includes everything you need for frightful fun. Halloween dance ideas include murals that will make guests scream with delight! Dress up in costumes and dance the night away among spiders, skeletons, bats and things that go bump in the night.
Stumps Spirit has a ton of Halloween dance ideas that are sure to turn this time of year into a frightful good time for guests, human or ghost!