Catalogs.com Departments

News & Articles

School Spirit Accessories - Game Faces
School spirit accessories are perfect for showing class pride
Get your game face on with a variety of school spirit accessories that show just how much class pride you have!


Looking for school spirit accessories that are unique and fun? Then check out Game Face and all of their spirit items that are perfect for games, homecomings and pep rallies. You can sport team color bracelets, wristbands, armbands and headbands.... read more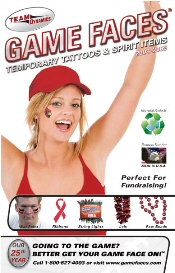 More About School Spirit Accessories - Game Faces:
Other great Game Faces ® by Team Dynamics departments:
If you think your school is the best, then show it! Sport horns and noise sticks let everyone know how much school spirit your class has, so don't be afraid to use them against the opposite team.


Slap car magnets or bumper strips on your ride to show your support. Or go crazy with shakers in a variety of colors, perfect for any school team. School spirit accessories get entire schools involved in sporting events and class activities. From cool tees to dog tags and so much more, no one will doubt how much class pride you have!
Students will have a great time at any school event showing off their school spirit accessories, from cute little zipper pulls to loud megaphones -- it's all about class pride!