Fun Learning Activities - Learning Resources
Fun learning activities offer great educational tools for teachers
Are you looking for a great way to spice up your classroom? Are your students tired of the same old worksheets and assignments? Fun learning activities are a fun, interactive way to teach virtually any subject! Whether youíre a math, science or social studies teacher, youíll find great success with fun learning activities from Learning Resources.


From cool talking globes that will help you effectively teach geography to shapes sets that will help with geometry lessons, you can find everything you need for a full day of fun and learning. In todayís world, children are over stimulated with television shows, internet and video games. Find a way to break through all of those distractions during class time with fun learning activities.


... read more


This catalog is currently out of stock.


Please search through our categories for another catalog.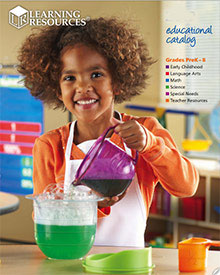 More About Fun Learning Activities - Learning Resources:
Other great Learning Resources departments:
Fun learning activities are appropriate for virtually any subject and every grade. This large selection of learning activities for kids will allow you to find the right activities and tools for even the most unique personalities and learning needs.
Children need more than just repetitiveness and memorization to properly learn their subjects. Fun learning activities donít just help memorize lessons, children actually learn and are able to understand how these lessons are important to everyday life! Find fun learning activities for your students today!