Laboratory Equipment and Supplies - American Science & Surplus
Laboratory equipment and supplies for scientists of every age
From glass beakers to high-tech microscopes, American Science & Surplus has the laboratory equipment and supplies that will introduce you to the wonderful world of science. Whether youíre a seasoned scientist or dabbling in middle school biology, youíre sure to find the science products you need.


See specimens up close and personal with a dependable microscope! Purchase the traditional microscope or an advanced, digital microscope with an easy to view LCD screen. Donít settle for poor quality microscopes! Browse a wide selection of high quality laboratory equipment and supplies today!


... read more


This catalog is currently out of stock.


Please search through our categories for another catalog.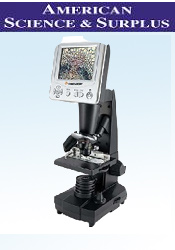 More About Laboratory Equipment and Supplies - American Science & Surplus:
Other great American Science & Surplus departments:
Science experiments arenít the time to estimate measurements! Get it right every time with electronic scales, glass beakers and disposable glass test tubes. Choose from a variety of safe, reliable lab containers.
Are you looking for fun science project books or science games for kids? Find a variety of cool ideas that will make learning science fun and interactive for you and your children! Make science their new favorite subject with cool laboratory equipment and supplies.
While exploring in the laboratory, itís always important to remember that safety comes first! With a variety of lab jackets, rubber gloves and other types of lab clothing to choose from, youíre sure to maintain the highest safety standards while conducting experiments. Browse a variety of laboratory equipment and supplies today!