Toddlers Educational Toys - Learning Resources
Make learning fun for your little one with toddlers educational toys
Are you looking for a way to make your preschool class love learning? Are you home schooling a precocious toddler? Toddlers education toys are a wonderful way to make learning fun and interactive. The learning methods of yesterday can't hold the attention of an advanced toddler like yours! Toddlers educational toys from Learning Resources offers a number of fun activities that are sure to keep your little one interested!


Let your child's imagination wander with fun role play activities! Whether they're fantasizing about being a doctor or becoming a world class chef, these amazing toddlers educational toys gives them the tools they need to prepare for a future filled with success and learning!


... read more


This catalog is currently out of stock.


Please search through our categories for another catalog.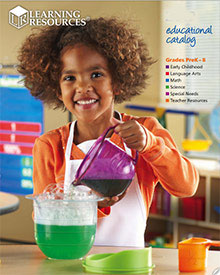 More About Toddlers Educational Toys - Learning Resources:
Other great Learning Resources departments:
Interactive letters, clocks and numbers will help teach preschoolers about the alphabet and how to tell time. Help them learn letter recognition with an advanced electronic learning chalkboard. Teach sight words with a magnetic fun board that will literally let your toddler get that hands-on approach to learning.
From traditional plastic letters to cool, electronic learning tools, toddlers educational toys are a great way to help young children learn. Keep them interested through fun and interactive activities that will spark the imagination and maximize classroom time!