Catalogs.com Departments

News & Articles

Avocado Gift Basket - Avocado of the Month Club
An avocado gift basket is a delicious present
Gourmet gift baskets are a great way to treat those you care about and people you appreciate. Why not choose an avocado gift basket for the person who craves avocados all year long?


Fresh avocados are a delicious treat that too many people don't often get. By sending an avocado gift basket to far away friends and family who can't ever get enough guacamole, you're sending delicious taste across the miles.... read more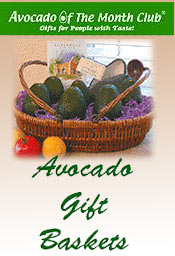 More About Avocado Gift Basket - Avocado of the Month Club:
Other great Avocado of the Month Club departments:
Send avocados as they are or select unique guacamole collections that contain everything the guac lover needs to make a superb, fresh guacamole!


An avocado gift basket can hold much more than just avocados. An avocado tool box has just what the avocado fan needs to make serving this delicious food even easier. From mashers to slicers, never be without essential tools for serving all your avocado recipes ever again. These unique gift baskets will be treasured by friends, family, business associates and clients alike.
An avocado gift basket from Avocado of the Month Club is the perfect way to show that guacamole lover just how much you appreciate them.