Catalogs.com Departments

News & Articles

Chocolate Truffle Cake - David's Cookies
A chocolate truffle cake is the ultimate in decadent desserts
Spoil your guests with a decadent chocolate truffle cake, the ultimate in party desserts!


Only the best ingredients for the best chocolate truffle cake you'll ever eat - Dark chocolate truffles blended into a smooth mix combine with heavy cream and semisweet or bittersweet chocolate for an incomparable treat. Top it all with creamy frosting and your taste buds will think they're in heaven!



Can you choose just one? - Your chocolate truffle cake options include chocolate raspberry, marble and mocha hazelnut, among many others, including sugar free varieties.... read more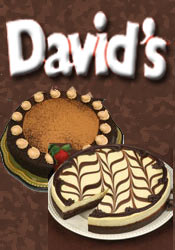 More About Chocolate Truffle Cake - David's Cookies:
Other great David's Cookies departments:
If you just can't decide on one, choose the truffle cake sampler and see how tasty they all are.


Your next party will be a hit - Imagine your guests' reactions when you pull out all the stops with such a gorgeous and mouthwatering dessert. Perfect for dinner parties, social gatherings or anytime!
David's Cookies has the chocolate truffle cake of your dreams, so treat yourself -- and party guests -- to the ultimate in decadence.