Coffee Machine Accessories – Green Mountain Coffee
Mornings are a grind without the right coffee machine accessories
Mornings can really be a grind without the right coffee machine accessories on hand. Make sure your kitchen is well equipped with a wonderful assortment of coffee machine accessories from Green Mountain Coffee. The ultimate source for all things coffee, Green Mountain Coffee has it all: the finest organic and fair trade coffee, top-quality coffee brewers, K Cups coffee makers, gourmet foods, coffee gift baskets, and so much more.


Discover the perks of having great coffee machine accessories at your fingertips -- find a spectacular collection of coffee machine accessories, including coffee storage canisters, milk frothers, coffee scoops, coffee tampers, coffee bag clips, Earth-Friendly™ Coffee Filters, and K Cup carousels for your coordinating Keurig coffee maker.... read more


This catalog is currently out of stock.


Please search through our categories for another catalog.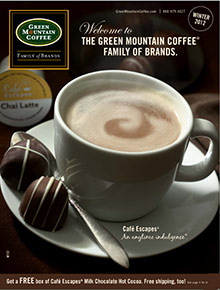 More About Coffee Machine Accessories – Green Mountain Coffee:
Other great Green Mountain Coffee® departments:
Coffee lovers everywhere are getting turned on to single serving K Cups -- whether you're shopping for home or the office, Green Mountain Coffee is your singular source for single serving coffee machines from Keurig -- the leader in single-cup brewers. Keurig's patented brewing technology delivers water in the exact amount, pressure, and temperature to create a perfect cup of coffee, tea, or hot cocoa, every time.
When it comes to coffee, there's never a shortage of choice -- find everything from the deliciously decadent chocolate glazed donut and cinnamon roll…to Newman's Own® fair trade and organic coffees…to simply satisfying Green Mountain classics like french roast, breakfast blend, hazelnut, and french vanilla, available in convenient single-serving K cups.
You'll also find classic coffee brewers and coffee grinders that look beautiful and function wonderfully -- everything from the Bialetti Mocha Pot and Bodum Chambord French Coffee Press, to the Chambord Stovetop Espresso Maker and Santos Vacuum Coffee Maker.