Catalogs.com Departments

News & Articles

Holiday Meat Baskets - Burgers' Smokehouse
Holiday meat baskets make thoughtful gourmet gifts
Sending gourmet gifts across the miles is a sure way to please anyone who appreciates fine food. Holiday meat baskets from Burgers' Smokehouse offer a delicious variety of sausages, steaks, ribs and pork that are tasty, juicy and moist, just what meat should be.


Now you can send food gift baskets that have what they really want! Do they love deli meats, country bacon, beef sausage chubs, delectable pork chops, smoked turkey and more? If so, send holiday meat baskets that they'll devour during a special time of year.... read more


This catalog is currently out of stock.


Please search through our categories for another catalog.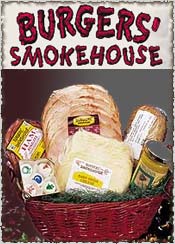 More About Holiday Meat Baskets - Burgers' Smokehouse:
Other great Burgers' Smokehouse departments:
Ultimate Smokehouse Samplers provide an array of food, including baby back sauced ribs, whole cooked and smoked turkey, cooked and smoked duck, sausage sticks, country ham steaks and so much more! They can sample some of everything and come back for more.


If you're having trouble thinking of the perfect gift to send, holiday meat baskets solve that problem. No matter where your gift recipients live, they'll enjoy the scrumptious servings of pork, beef and turkey offerings down to the last piece! Choose smaller baskets or go all out; the choice is yours.
Your gift of holiday meat baskets are sure to be met with much appreciation from anyone who loves tender, juicy meats of any variety.