Lobster and Steak - Hitching Post Steaks
Lobster and steak together make an incredibly delicious meal
Enjoy the great taste of classic surf and turf dinners, but don't feel like going out to experience it? You can have a delicious lobster and steak meal anytime with home delivery from Hitching Post Steaks.


Two fabulous tastes combined in one meal -- that's lobster and steak! Who can resist a dinner you'll find on the finest restaurant menus in the comfort of your own home? With convenient and easy online ordering, you can have a quick, fully prepared meal on your table in the time it takes to relax after work.... read more


This catalog is currently out of stock.


Please search through our categories for another catalog.


- or -

Shop for lobster and steak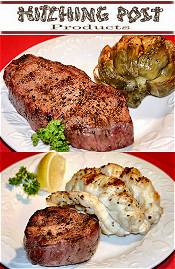 More About Lobster and Steak - Hitching Post Steaks:
Other great Hitching Post Steaks departments:
Just heat tender, juicy steaks and rich, meaty lobster tails, and enjoy!


You choose fresh lobster tails or prepared ones. If you know your way around a kitchen, you can order these beauties that come straight from Western Australia for superior taste! For the rushed chef, select fully prepared tails that save you time, but still deliver the fantastic flavor you want. Put lobster and steak together for a delicious meal that's perfect for intimate dinners for two or for dinner parties.
If you appreciate fine gourmet meals, you'll love the lobster and steak combos you'll find right here, perfect for anytime and any occasion!