Catalogs.com Departments

News & Articles

Prime Aged Steaks - Michael Jordan Steaks
Prime aged steaks are delicious and affordable
If nothing less than the very best cuts of beef will do, then prime aged steaks are here to satisfy your taste buds. Michael Jordan knows more than hoops -- he knows how to provide signature steaks that you're sure to love.


Pick your favorite cut and Michael Jordan Steaks delivers. Now you can enjoy the finest prime aged steaks in convenient and easy home delivery.... read more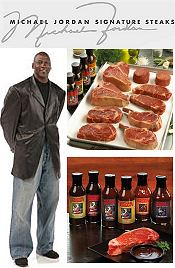 More About Prime Aged Steaks - Michael Jordan Steaks:
Other great Michael Jordan Steaks departments:
Order your steaks online, whether you're crazy about Delmonicos, ribeyes, cowboy cuts, filet mignon or the great big Porterhouse. There's a size and package perfect for any size appetite.


Your mouth will water at the very sight of these incredibly delicious prime aged steaks. If you can't decide on just one cut, you don't have to. Enjoy packages like The Full Court Press, The Half Court Press or The Dream Team, all of which feature an assortment of steaks for real variety. All-natural sauces are included in these packages for even more flavor!
When you want restaurant quality prime aged steaks, but you also want the convenience of home delivery, let Michael Jordan send tender and juicy steaks right to your door.