Catalogs.com Departments

News & Articles

Prime Ribeye Steaks - Michael Jordan Steaks
Prime ribeye steaks are perfect for small or large gatherings
The same man who thrilled millions on the basketball court for years now delivers prime ribeye steaks right to your door through his Michael Jordan Steaks company. You might not be able to slam dunk like Mike, but you can enjoy his signature steaks anytime.


If ribeye steaks are your favorite cuts, you're in for an appetizing treat! Prime ribeye steaks are available in a variety of cuts, including Delmonico, cowboy and grass-fed cowboy.... read more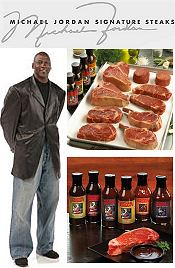 More About Prime Ribeye Steaks - Michael Jordan Steaks:
Other great Michael Jordan Steaks departments:
Why buy from a store that doesn't specialize in tantalizing beef when you can enjoy the convenience of home delivery with mouth-watering steaks you'll have to experience to believe.


Thick, juicy prime ribeye steaks are great year-round, on the stove or on the grill. Invite guests over for a cookout and serve these delicious cuts of beef -- they'll all want to know where you found such succulent steaks. Tell them Michael Jordan carries them! With such high quality and expert cuts, you'll come back to these ribeyes time and time again.
When you want the rich, appetizing taste that only the highest quality can provide, turn to prime ribeye steaks endorsed by this basketball legend.