Catalogs.com Departments

News & Articles

Sauces and Marinades - Michael Jordan Steaks
Sauces and marinades make Michael Jordan steaks even better
When you're cooking or grilling a restaurant quality cut of beef, you want the best sauces and marinades to really bring out the flavor. Besides great steaks, Michael Jordan Steaks carries a delicious assortment of sauces and marinades that really make the most of these tender meats.


No matter what you're cooking, there's a sauce that'll make your meat taste even better.... read more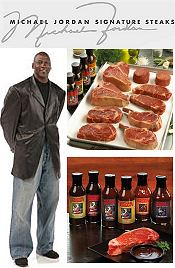 More About Sauces and Marinades - Michael Jordan Steaks:
Other great Michael Jordan Steaks departments:
Do you like a little kick to your dish? Then choose from marinades like Tequila Lime, Citrus Wasabi or Chipotle. After sitting in these marinades for a while, your food is sure to sizzle! If less spicy is your goal, choose from classic flavors like All Star Barbeque Sauce, Sweet Peppercorn Steak Sauce, Special23 Steak Sauce and more.


How about an assortment of favorites to make your task easier? Try packages like The Ultimate Starting Lineup, Sixth Man Marinades, The Steak House Classics and The Essentials. These tasty collections feature a range of flavors, allowing you to try them all! These sauces and marinades make a great gift for the chef or grill master in your life.
Make every meal a slam dunk with the delicious sauces and marinades you'll find here, whether chicken, pork or tender, juicy steak is on the menu!