Catalogs.com Departments

News & Articles

Steaks as Gifts - Michael Jordan Steaks
Steaks as gifts are for anyone who appreciates fine food
You might not be able to play like Mike, but you can enjoy his signature steaks. Michael Jordan Steaks has a delicious variety of meats, knives, sauces and accessories, including the cool idea of steaks as gifts for any occasion.


Don't know what to get the steak lover in your life? Instead of giving the same presents year after year, consider tender and juicy steaks as gifts.... read more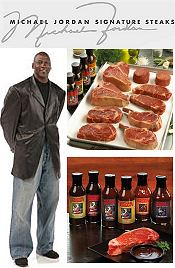 More About Steaks as Gifts - Michael Jordan Steaks:
Other great Michael Jordan Steaks departments:
These tantalizing cuts are perfect for Father's Day, birthdays, Christmas, housewarmings, retirements, Mother's Day or anytime fine food is appreciated. Choose by price range for gift packages that will fit any budget.


Michael Jordan knows basketball, but he knows steaks, too! Steaks as gifts are available in Delmonico, ribeyes, filet mignon, porterhouse and cowboy varieties. You can choose packages like The Full Court Press, The Half Court Press and The Dream Team, or select sauces and accessories in Essentials and Ultimate Starting Lineup packs. Don't know what their favorite cut of beef is? Then play it safe with gift cards that allow them to choose exactly what they want.
For fine gourmet food that'll tempt friends, family and business associates alike, you can't go wrong with steaks as gifts for special occasions or anytime!