Catalogs.com Departments

News & Articles

Virgin Avocado Oil - Avocado of the Month Club
Virgin avocado oil adds delicious variety to cooking
If you haven't yet discovered the joy of virgin avocado oil, you're in for a tasty treat! The finest avocados from all over the globe are used to make this heart-healthy oil, which is great for cooking or dipping.


With so many people wanting to eat healthy foods, oil seems like it's off the list. But virgin avocado oil, like olive oil, is better for your body than other types of oils.... read more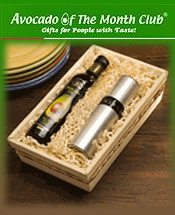 More About Virgin Avocado Oil - Avocado of the Month Club:
Other great Avocado of the Month Club departments:
Not to mention that its buttery taste is absolutely delicious! Use it when cooking or add your favorite herbs to it and serve as a dip for soft breads. The possibilities are endless...and they're all mouth-watering.


If you don't think you can trust yourself to just drizzle your virgin avocado oil, then the avocado oil and sprayer gift set from Avocado of the Month Club is exactly what you need! This delicious oil will mist over your food, saving you calories, but not taste. Packaged in a beautiful wood box, this is a thoughtful gift for anyone, including you.
Go ahead and try virgin avocado oil today! It's an appetizing addition to your kitchen and a wonderful way to treat your heart.