Catalogs.com Departments

News & Articles

Watch Winding Machine - Brookstone
An automatic watch winding machine saves you time
Choose a watch winding machine for yourself or as a special gift for someone. An automatic winder ensures that your precision watch will always have the right time.


Self-winding watches do half the work, but a watch winding machine does the rest! Automatic watch winders are careful not to overwind your watch with a built-in timer feature that keeps perfect time.... read more


This catalog is currently out of stock.


Please search through our categories for another catalog.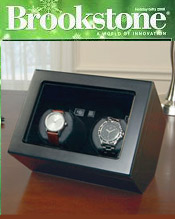 More About Watch Winding Machine - Brookstone:
Just set your watch in the winder and go. Have more than one watch to wind? Then a dual or quad watch winder works on two to four watches at once.


Besides the watch winding machine mechanism that keeps impeccable time, you also get a beautiful display case to set watches in while they wind themselves. Quiet action won't disturb you while it winds clockwise, counter-clockwise or in a bi-directional rotation. Instead of worrying about whether your watch is keeping time, let the automatic winder do the work while you do more important things.
Brookstone has the perfect watch winding machine for you, either to keep or give as a gift to someone special.