Catalogs.com Departments

News & Articles

Personalized Flags - Carrot Top Industries
Find high quality personalized flags
Are you looking for a cost-effective, unique way to display your business name? Do you want to honor your family with a unique crest flag? Personalized flags are the way to go. Create a flag for your favorite local sports team or place your business logo on a large, proudly waving banner.


A three step custom system takes the guess work out of custom made flag creation.... read more


This catalog is currently out of stock.


Please search through our categories for another catalog.


- or -

Shop for personalized flags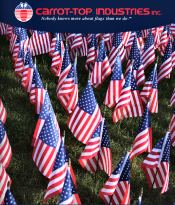 More About Personalized Flags - Carrot Top Industries:
Other great Carrot Top Industries departments:
Carrot Top Industries employs talented graphic artists who created a large variety of distinctive designs. You can customize your flag from the ground up! From choosing the base color to creating your own, original text, you're responsible for creating your very own personalized flags.


Do you have artwork that you'd like to display on a flag? Would you like to transfer your family crest onto a flag that will wave proudly outside of your home? Personalized flags have never been easier to create! Simply provide the proper artwork and the flag specialists will use a highly advanced digital press to provide photo quality reproductions.
Personalized flags are a great way to display family pride or enthusiasm in your favorite sports team. From the fighting tigers to a Scottish family crest, you'll be proud to wave a flag that you helped design!