2009 Presidential Dollars– Collectors Alliance
Invest in 2009 Presidential Dollars and coins from years past
If you're looking for an addition to your coin collection that's worth its weight in gold, presidents coins--including 2009 Presidential Dollars--definitely fit the bill. Along with the most recent issue of 2009 Presidential Dollars, find coins of great historical significance at Collectors Alliance.


Now's the time for 2009 Presidential Dollars -- presidents in the series include William Henry Harrison, John Tyler, James K. Polk and Zachary Taylor. Includes the 2009 Presidents Dollars Coin Set.... read more


This catalog is currently out of stock.


Please search through our categories for another catalog.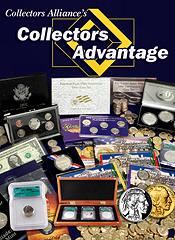 More About 2009 Presidential Dollars– Collectors Alliance:
Other great Collectors Alliance departments:
Looking for a 2008 Presidential Dollar Coin? Look no further – this online collection includes Presidential Dollar Coins and Coin Sets honoring James Monroe, John Quincy Adams, Andrew Jackson and Martin Van Buren.
Invest in the "First Year of Issue" 2007 Presidential Dollar Coin Series -- commemorating George Washington, John Adams, Thomas Jefferson and James Madison. Includes the 2007 Presidential Dollar Coin Set.
Along with an impressive collection of gold coins, including Gold Presidential coins, shop the best silver coin collection ever assembled -- build your collection with pure silver collectible coins that are considered "as good as gold" by many.
From contemporary 2009 coin sets to rare collectible coin sets from the 1930s and 1940s -- you'll be sure to find your year, at prices that won't break your piggy bank.
In addition to coins, find an amazing choice of valuable collectibles -- sports memorabilia, trading cards, treasured toys, collectible knifes and other hard-to-find treasures!