Catalogs.com Departments

News & Articles

Astrology Tools – Wandering Star Astrology Jewelry
Use astrology tools to understand and master the craft
To get a better understanding of how astrology plays an integral role in your daily life, you can use astrology tools to shed light on important information about the planets, zodiac signs and horoscopes.


A spinning mobile - The Dancing Helix is a wondrous spinning mobile comprised of ribs that represent a House, Zodiac Sign or Planet.... read more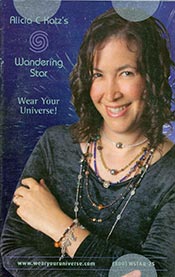 More About Astrology Tools – Wandering Star Astrology Jewelry :
Other great Wandering Star Astrology Jewelry departments:
This 4-ft long DNA Helix mobile is a fantastic way to experience your horoscope as it spins around keeping energy in constant motion. Astrology tools such as this can be used for Feng Shui, meditation and healing.


An astrology wheel - Astrology tools like the Planetary Wheel are ideal for both novice and advanced astrologers. Track your chart of life with this 3-D wheel that spins round and round allowing you to compare in conjunction, opposition, square, and trine! The 16-inch wheel comes with one set of houses and two sets of planets in your choice of colors including turquoise, purple, sage and red.
A roll of the dice - When you use astrology tools such as Astrology Dice, you're able to answer any question that may come your way. With interpretation of the dice, you can impress your friends with your astrological knowledge. Each set contains three dazzling 12-sided dice. The three dice include a purple die with Planets, a green die with Houses, and a blue die with Zodiac signs.

Astrology tools help you to perfect your craft.