Catalogs.com Departments

News & Articles

Coin Display Table - United Displays of America
A coin display table makes a great conversation piece
If you have a collection of military coins you want to exhibit in a distinctive way, a coin display table lets you do that, creating a beautiful showpiece in your home.


Don't hide those collectible coins away in a dark box. Instead, bring them out into the light where everyone can see them. You'll be able to show your pride in your country with a lovely, glass top coin display table.... read more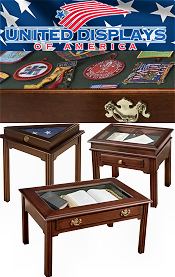 More About Coin Display Table - United Displays of America:
Other great United Displays of America departments:
Challenge coins from various branches of the military are made to be shown and now you can do that in an elegant way.


Choose a large coin display table or an end table that saves space, but is still a distinguished decor item. Your table can be customized with an admirable bronze plaque celebrating dedicated service to the Navy, Air Force, Army, Marines or Coast Guard. United Displays of America has a selection of patriotic home decor items that you'll be proud to display in a living room, den, family room or bedroom.
A coin display table, crafted with pride in the U.S.A., is a wonderful way to show your collectible coins.