Catalogs.com Departments

News & Articles

Coolest Gift Ideas - Current
The coolest gift ideas are perfect for all occasions
Now you can find all of the coolest gift ideas all in one place: Current! For any event and occasion, there's a gift perfect for that special someone.


You don't have to spend a ton of money on the coolest gift ideas. Instead, you'll find a fun and exciting selection of incredibly affordable ideas here. Besides buy one-get one free deals, you can also find personalized notepads, letter openers, greeting cards, gift wrap, paper flowers, vases, car hangers, personalized throws, photo frames, bookmarks and so much more!



Why not gift yourself? The coolest gift ideas are for everyone, including you! Outfit your home office with organizer books, highlighters, pens, magnet clips, paper clips, file folders and more, all at great prices that won't put a crimp in your budget.... read more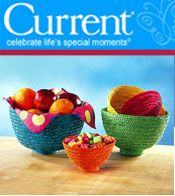 More About Coolest Gift Ideas - Current:
Not only can you find the coolest gift ideas here, you'll also find tons of ways to wrap them and present them perfectly!

Find incredible home, craft and gift ideas at affordable prices, making any gift-giving occasion a great way to celebrate.