Catalogs.com Departments

News & Articles

Creative Personal Gifts - Current
Creative personal gifts are unique and special
Adding a unique touch to any gift makes it that much more special. Now you can give truly creative personal gifts with the thoughtfulness of personalization.


When you give a present, it should be unique to the recipient. You'll find lots of fun and exciting possibilities in creative personal gifts at Current, including photo frame bookends, photo mugs, photo mouse pads, photo personalized tote bags, photo address labels, personalized checkbook covers, personalized sweatshirts and more! Just pick a favorite photo and add it to an item to make it one-of-a-kind.... read more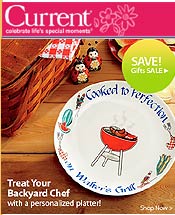 More About Creative Personal Gifts - Current:
With so many personalization options, it's easy to add a name or photo to a huge selection of gifts, including bowls, sports tags, labels, mugs, note cards, throws, lunch totes, key chains and even candy wrappers! Creative personal gifts will delight people of all ages, from kids to adults.
Creative personal gifts are wonderful for birthdays, weddings, anniversaries, Mother's Day, Father's Day, holidays, Grandparents Day and so much more! The unique touch you add with personalization will be loved by one and all.