Catalogs.com Departments

News & Articles

Dog Zipper Pulls - DogGone Charming
Dog zipper pulls are charming and fun
Replace ordinary zipper pulls with fun accessories like dog zipper pulls. With tons of breeds to choose from, you can showcase your love of dogs on jackets, purses or anything you zip up!


What's your favorite dog breed? Popular breeds of all sizes are available on dog zipper pulls, including Westies, Jack Russell Terriers, Schnauzers, German Shepherds, Labs, Cocker Spaniels, St.... read more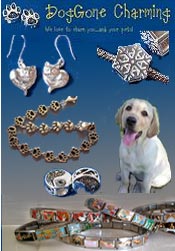 More About Dog Zipper Pulls - DogGone Charming:
Other great DogGone Charming departments:
Bernards, Dachshunds, Chows, Border Collies, Bichon Frises, Pugs, Bulldogs, Boxers, Bull Terriers, Golden Retrievers, Basset Hounds and many more!


If you can't find the breed you want, you can still let everyone know how much you love your dog with round or heart-shaped pulls that proclaim "I Love my Dog." Various colors and detailed designs make these dog zipper pulls adorable ways to jazz up plain zippers as well as showcase your love of dogs. Choose more than one breed if you live with more than one type of dog! With so many zipper pull options, you're sure to find the perfect one for you.
DogGone Charming carries a wonderful variety of dog zipper pulls that any dog lover will appreciate, almost as much as they appreciate their precious pups!