Catalogs.com Departments

News & Articles

Elegant Wedding Cake Toppers – Brides Village Wedding Accessories
Elegant wedding cake toppers make wedding cakes memorable
Wedding cake toppers have become traditional favorites. That's why cake toppers are one of the most important accessories to have on your wedding day. Elegant wedding cake toppers are seen and adored by all who attend your wedding. Your cake topper will surely be a delightful conversation piece.


Elegant wedding cake toppers come in a variety of styles including cake tops with bride and groom figurines.... read more


This catalog is currently out of stock.


Please search through our categories for another catalog.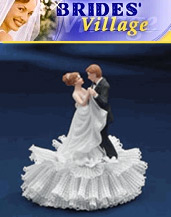 More About Elegant Wedding Cake Toppers – Brides Village Wedding Accessories:
Other great Brides Village Wedding Accessories departments:
The handsome groom in his black tux and his beautiful bride dressed in white pose surrounded by a variety of accents like elegant tulle, pearl sprays, white orchids and bows, and sprays of flowers.


These precious bride and groom figurines depict Caucasian, African-American, Hispanic, Interracial and other ethnic couples. Elegant wedding cake toppers are so intricately designed that you can see the blush on the bride's cheek and the sparkle in the groom's eyes.
For those with a funny side, there are elegant wedding cake toppers that are humorous in nature and guaranteed to bring laughs to your wedding celebration. Choose from a number of figurines including the Ball and Chain, the Reluctant Groom, the Groom Carrying Bride and the Runaway Bride.
Elegant wedding cake toppers are sure to be a hit on your wedding day. Based upon your theme and tastes, you can select the cake topper that's right for you. Choose from porcelain, glass, and painted figurines that depict the joyous union between newlyweds.