Catalogs.com Departments

News & Articles

Ercolano Music Box - Music Box Attic
An Ercolano music box is an exquisite collectible to own
For serious music box collectors, owing an Ercolano music box is sure to place a priceless tag on your collection. Music Box Attic carries a selection of Ercolano boxes that are unrivaled in beauty and quality.


If you have precious jewelry, you should store it in a piece that matches your jewels' beauty and elegance. With an Ercolano music box holding your valuable treasures, you can feel secure knowing that your jewelry is gently housed in the softest fabric.... read more


This catalog is currently out of stock.


Please search through our categories for another catalog.


- or -

Shop for ercolano music box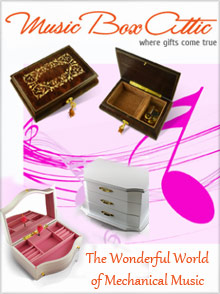 More About Ercolano Music Box - Music Box Attic:
Other great Music Box Attic departments:
Every time you open the lid, charming music will greet your ears. These musical jewelry boxes are a delight to listen to and behold!


Choose from themes featuring romantic couples, antique home, abstract art, dancing couples, florals, modern designs, gardens, mothers, children and much, much more! With a huge variety of colors and styles, you're sure to find the perfect Ercolano music box for your home or for an unforgettable gift. Adding one of these high-quality, exquisitely detailed boxes to your home is the ultimate in elegant and classic style.
When you want the very best, choose an Ercolano music box for a unique, timeless piece that will never go out of style.