Catalogs.com Departments

News & Articles

Figurines by Lladro - Pascoe
Figurines by Lladro add elegance and beauty to any home
The beauty of Lladro collectibles is unparalleled. Anyone who appreciates fine porcelain and an exquisite attention to detail that goes into every piece will love the figurines by Lladro offered at Pascoe. Elegant and beautiful, Lladro will give any home a sophisticated touch.


Figurines by Lladro are valuable treasures - These lovely collectibles are sure to be cherished by loyal Lladro enthusiasts. Crafted with the finest materials and details, you'll enjoy the breathtaking beauty each Lladro figurine holds. Place them in special display cases or on high shelves throughout your home. Figurines by Lladro add elegance to any room. If you're looking for just the right piece to complete a corner, table or shelf, you'll find it here.


... read more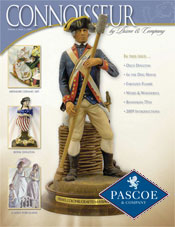 More About Figurines by Lladro - Pascoe:
Other great Pascoe - Royal Doulton Collectibles departments:
Choose among many themes - You'll find no end of favorite themes among figurines by Lladro. Choose from the Virgin Mary, baby Jesus, Alice in Wonderland, Ghandi or Cinderella. Other favorites that Lladro does so well include dancers, mermaids, children, mothers, kittens, dogs, angels, swans, couples and much more! You'll be enchanted with each and every one of these gorgeous collectibles. For figurines you may have missed when they first came out, see if you can find them here. Hard-to-locate pieces? You may find the one you've been searching for.
The perfect, elegant home decor - Choose from one theme or create an eclectic mix. Either way, Lladro figurines will bring elegance and sophistication to your home. These are collectibles that you'll enjoy showing off for years and years. Perfect conversation pieces and valuable decor, you'll love the beauty they add to any room.
When you want the very best, choose a name like Lladro, which has been delivering fine hand-crafted figurines for decades. Whether you're a casual collector or real Lladro enthusiast, these pieces are for any lover of finely crafted, elegantly detailed sculpted collectibles. Add the perfect piece to your collection and watch true beauty unfold.