Catalogs.com Departments

News & Articles

Gifts for Easter - GiftsForYouNow.com
Gifts for Easter for all ages
Here comes Peter Cottontail, passing out gifts for Easter, for kids and grownups of all ages.


Personalized Easter gifts for those special people - Whether it's Mom, Grandma, Dad or baby, you'll find personalized gifts for Easter, including t shirts, sweatshirts, plush bunny rabbits, coffee mugs and more. Make that gift more unique and put a personal stamp on it by adding the name of a loved one to it.... read more


This catalog is currently out of stock.


Please search through our categories for another catalog.


- or -

Shop for gifts for easter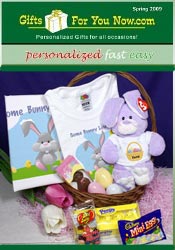 More About Gifts for Easter - GiftsForYouNow.com:
Other great GiftsForYouNow.com departments:
Plush toys and baskets for the kids' enjoyment - Children of all ages will love having a soft Easter bunny to cuddle. Wearing shirts with personalized messages will let kids know the Easter bunny thinks they're precious. Baskets can be personalized as well, for that extra touch.
Religious gifts for Easter - For anyone who celebrates the religious aspect of the holiday, religious Easter gifts include prayer pillowcases, guardian angel medallions, picture frames, wall crosses and other keepsakes. Add personalization to these items for that special someone.
GiftsForYouNow.com provides all the gifts for Easter you could want, including a large selection of personalized items that will bring a smile to kids of all ages.