Catalogs.com Departments

News & Articles

Keepsake Music Boxes - Music Box Attic
Keepsake music boxes make elegant and thoughtful gifts
Keepsake music boxes make wonderful gifts, but are also perfect for giving to yourself. If you're interested in collecting only the best in musical jewelry boxes, you'll find exactly what you're looking for at Music Box Attic.


When quality is important to you, you choose finely crafted and exquisitely detailed items. The keepsake music boxes you'll find here will meet the highest standards! Now you can store your precious jewels in a box that matches their beauty.... read more


This catalog is currently out of stock.


Please search through our categories for another catalog.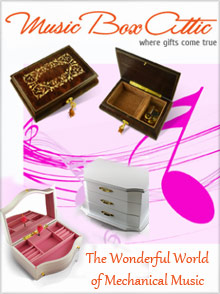 More About Keepsake Music Boxes - Music Box Attic:
Other great Music Box Attic departments:
Place in a bedroom or dressing room to really add elegance and class to your home.


Whatever your personal style, there are keepsake music boxes to match. Solid natural wood, Victorian fabric, stained glass, velvet lining and gorgeous inlays are just some of the features you'll find that make these jewelry boxes outstanding. Give these as gifts for birthdays, weddings, anniversaries, Mother's Day, retirement parties or keep them for yourself. Anyone who loves classic music paired with classic styling will appreciate these music boxes.
Store precious jewels along with other treasured mementos in keepsake music boxes that are as lovely to listen to as they are to view.