Catalogs.com Departments

News & Articles

Kitty Italian Charms - DogGone Charming
Kitty Italian charms link together for truly unique bracelets
Create a unique and a one-of-a-kind piece that no one else will have! Kitty Italian charms make it easy for you to create your own bracelet that shows off your love of cats.


If hearing "Meow" every day is music to your ears, you love your kitties. What better way to express this than with jewelry that you make yourself? Kitty Italian charms are available in a huge variety of colors and styles.... read more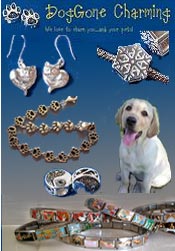 More About Kitty Italian Charms - DogGone Charming:
Other great DogGone Charming departments:
Choose from charms like black cat and fence, tabby cat face, black kitten, cat mom, cat and aquarium, cat paw, two cats watching fish, cat in alley, best friend, cat moon and many others!


Kitty Italian charms make great gift ideas for the cat lover in your life, whether they love tabbies, Siamese, orange cats or love them all. You present the charms and let them express their individuality in how they put their bracelet together! With so many charm options and ways to combine them, you'll have a gorgeous bracelet that's unique to you.
If a cat charm bracelet is what you want, let DogGone Charming provide you with the variety of kitty Italian charms you need to create a piece of stunning jewelry that's all your own!