Catalogs.com Departments

News & Articles

Military Coins Display - United Displays of America
A military coins display is a unique addition to any home
Now you can show off all of those Challenge coins you earned in the service. A military coins display is a great way for active and retired service members to exhibit these well-earned awards.


If you have a large collection of Challenge coins, use a military coins display to put them on view. A large display table holds a number of these coins and will look great in the middle of a living room or den.... read more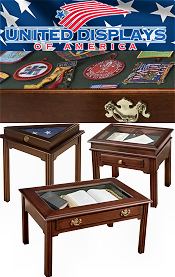 More About Military Coins Display - United Displays of America:
Other great United Displays of America departments:
A coin end table is small enough to sit at the end of a sofa or in any space designed to showcase your unique collectibles.


Glass tops protect your precious coins, but allow you to view them anytime. An attractive interior keeps your coins prominently exhibited on a special bed. A military coins display makes a thoughtful gift for a service member, whether they're active or retired from the Air Force, Marines, Coast Guard, Army or Navy.
United Displays of America has the right military coins display for anyone who wishes to exhibit a special and well-deserved Challenge coin collection.