Catalogs.com Departments

News & Articles

Nautical Themed Gift - Waterfronts Nautical
A nautical themed gift is perfect for ocean lovers
Bring the ocean inside or simply place it on board a private boat with a nautical themed gift from Waterfronts Nautical. These innovative and unique items are the perfect present for the seafaring man or woman. Everything from clothing, accessories and home decor can incorporate a love of the sea.


A great nautical themed gift idea - These gift ideas work in the water and out! A pair of board shorts is just what a man needs to take a dip, but there are plenty of dry land options as well.... read more


This catalog is currently out of stock.


Please search through our categories for another catalog.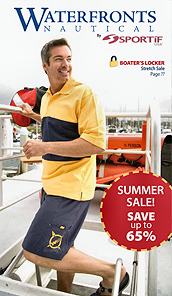 More About Nautical Themed Gift - Waterfronts Nautical:
Other great Men's Nautical Clothing departments:
Some of the gift ideas you'll find here for men include stainless steel watch, tropics boxers, boater's knife, sandals, airflo hat, logo ball cap, sailor short sleeve cotton print shirt, cargo shorts, belts, travel adventure journal, military belt buckle, Sperry Top-sider shoes, Anchor 200 dial watch, sportstrap watch and nickel belt buckle with bottle opener.


For home or boat - A nautical themed gift not only works for being around the water; it's also great for bringing the sea inside. Outfit your private boat or add some nautical home decor to any room of the house. You'll think of sea breezes every time you see these elegant items. Decor includes Captain's Mistress game, nautical prints, pirates chess set, turtle metal sculpture and an Admiral's deluxe cocktail set, perfect for entertaining!
Any gift-giving occasion - Who do you know who'd love a nautical themed gift? A retired sea captain? Or just someone who's always loved the ocean? These gift ideas work for various holidays, birthdays or anniversaries throughout the year. Finely crafted and made of the highest quality materials, you'll be proud to give these unique, nautical themed items to anyone who can't get enough of the seven seas.
For the perfect gift for that ocean loving person in your life, shop these clothes, accessories and decor items. Each one of them celebrates the beauty of the sea!