Catalogs.com Departments

News & Articles

Navy Medal Display - United Displays of America
A Navy medal display celebrates years of dedicated service
Are you looking for the perfect gift to present to a Navy man or woman? Consider a Navy medal display table, which will allow this dedicated service member to exhibit all of their hard-earned medals for years to come.


You earned those medals with hard work and dedication, so they should be prominently displayed in your home. A Navy medal display allows you to do this in an elegant way.... read more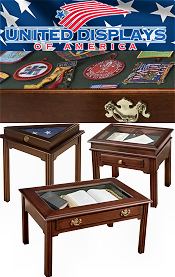 More About Navy Medal Display - United Displays of America:
Other great United Displays of America departments:
Well-made, glass top tables protect your military awards and the U.S. flag in a distinctive arrangement that adds class and dignity to any room.


A Navy medal display makes a thoughtful gift at a retirement party. If a friend or family member is leaving active military service after years of achievement and dedication, a display table that will hold all of his awards is a special way to celebrate a career spent serving his country. Solid brass hardware and cherry wood make for a beautiful, well-crafted table that will last and look beautiful for years.
If you're looking for a Navy medal display table, United Displays of America has one for you, allowing you to showcase your hard work and rewards.