Catalogs.com Departments

News & Articles

Pet Card - Pipsqueak Productions
Give a pet card to your favorite animal lover
Are you looking for a way to express your love for your four-legged family member? Whether you're the owner of a brilliant Cocker Spaniel or an affectionate Golden Retriever, Pipsqueak Productions has an amazing selection of pet cards featuring your favorite breeds.


You'll find amazing dog pet products such as memos, birthday cards and other stationary that showcase the precious face of your furry family member. Find your favorite pet card today!


... read more


This catalog is currently out of stock.


Please search through our categories for another catalog.


- or -

Shop for pet card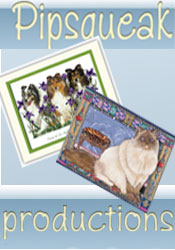 More About Pet Card - Pipsqueak Productions:
Other great Pipsqueak Productions departments:
Contact the dog artist to create your very own "pawtrait"! With amazing attention to detail, the dog painter is sure to capture the loving, courageous personality of your pet! Buy pets art that will become a lovely family keepsake item that your loved ones will cherish for years to come! The artists can help you channel your love for your pet into a beautiful, wonderfully unique work of art. Simply provide your favorite picture of your pet and you'll have a beautiful pet card item in no time!
Whether you're trying to find the perfect gift for the animal lover in your family or you're just searching for a way to commemorate your new family pet, unique products such as an original pet card or personalized stationary will help you show your pride in your four legged friend. Commemorate any special occasion with a fun and furry pet card!