Catalogs.com Departments

News & Articles

Smokey Bear Gifts - Woodland Catalog
Smokey Bear gifts are wonderful ways to support our forests
If national forests are important to you, you'll love the variety of Smokey Bear gifts which you can give or keep for yourself. With such a familiar and friendly face attached to these unique items, pride in our forest land will swell each time you look at them.


Who doesn't know Smokey Bear and his commitment to keeping forests safe? Now you can help spread awareness by giving presents featuring this lovable bear's face.... read more


This catalog is currently out of stock.


Please search through our categories for another catalog.


- or -

Shop for smokey bear gifts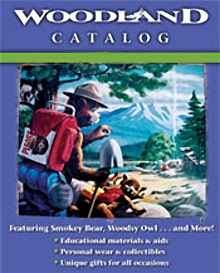 More About Smokey Bear Gifts - Woodland Catalog:
Other great Woodland Catalog departments:
For children, choose from Smokey Bear gifts like hats, coloring books, stickers, glow bracelet, youth ranger hat, playing cards, balloons, bookmarks, puzzles and more toys and games that teach kids all about forest safety. They'll learn and be entertained by this friendly face at the same time!


People of all ages will appreciate Smokey Bear gifts, including colorful tee shirts, hats, jackets, vests, sweatshirts and hoodies. Proudly display Smokey's familiar face or choose recycle or paw print image messages. Other unique gifts you'll find are dolls, decorations, bags, daypacks, blankets, books, videos and much, much more!
If you're passionate about forests, the environment and just love this bear's friendly face, Smokey Bear gifts are the perfect way to combine all of this into cool, unique items.