Catalogs.com Departments

News & Articles

Unique Womens Bracelets - Nature's Jewelry
Unique womens bracelets put just the right touch on any ensemble
Sophisticated, classic, eclectic, elegant -- these are just some of the styles of unique womens bracelets you'll find at Nature's Jewelry. With such a wide variety of bracelet designs, you're sure to get just the right piece to complete any ensemble!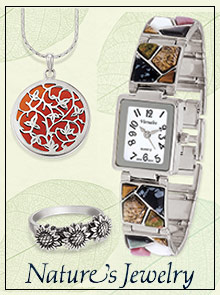 More About Unique Womens Bracelets - Nature's Jewelry:
Other great Nature's Jewelry departments:
So simple to slip on, but so full of flair! Choose pewter bracelets, natural bamboo bangles, porcelain bead cord bracelets, leather cuffs, jade bangles, sterling silver cuff bracelets, leopard print cuffs, charm bracelets and much more.


Silver, gold, gemstones, wood, leather, pewter and natural stones are some of the beautiful details you'll see on unique womens bracelets. Wear them with dresses, skirts, jeans, slacks, shorts; wear them to work and on weekends. These fashion accessories will add the perfect amount of flair to any outfit you wear!
Buy them for yourself or as gift items for someone else. Unique womens bracelets are a great finishing touch on a variety of outfits, from dressy to casual, and always chic!