Efficiency Water Heaters – Alternative Energy Store
Save money with efficiency water heaters
Cut costs and save money when you use efficiency water heaters to heat the water throughout your home. A solar hot water system is an ideal way to get more out of your money. These systems not only work well in regions that fall within the sunbelt, but they also work well in areas of the country that might not get as much sun power, like New England. It is estimated that supplemental water heating from the sun can provide 40-70% of your domestic hot water needs.... read more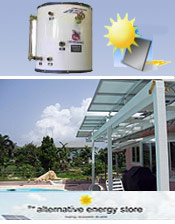 More About Efficiency Water Heaters – Alternative Energy Store:
Other great Alternative Energy Store departments:
Now that's a lot of savings!


The 120 Gallon Solar Hot Water Tank with Heat Exchanger comes with a 6-year limited tank and parts warranty. An efficiency water heater such this has an isolated tank design that retains heat better, a collector feed and return fittings that are placed conveniently at the front of tank. Plus, the solar models meet all current requirements for solar storage tanks.



When choosing an efficiency water heater, it is recommended to use open loop systems if you live in milder climates that never experience freezing. Also known as Direct Systems, these waters heaters should be selected based on the number of people living in your household. Heaters can be powered by household AC electricity or solar electricity.



To save money, be sure to install efficiency water heaters. Now you can put the extra money you save in the bank.