Catalogs.com Departments

News & Articles

Organic Blankets - Janice's
Cuddle up with soft organic blankets
Are you trying to live the organic lifestyle? Organic blankets can help you take that step toward living a fully organic life! Janiceís offers a wonderful alternative to your everyday, run of the mill blankets and quilts.


If you eat organic and wear organic clothes, why shouldnít you cozy up in organic blankets? Stay warm during those cold winterís nights with comfortable organic blankets. Stop settling for itchy, mystery fabrics! Organic blankets and comforters are made from purely natural fabrics that allow you to stay warm while staying organic!


... read more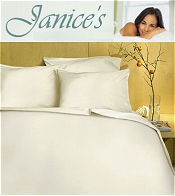 More About Organic Blankets - Janice's:
Other great Janice's departments:
Did you know that farmers use harmful and harsh chemical pesticides during the cultivation of their cotton? Those same pesticides usually find themselves onto your cotton blankets, towels, quilts and clothing. Donít let your family sleep on those harsh chemicals! Browse a full collection of truly organic wool and cotton blankets.
Donít settle for imitators. Organic blankets from Janiceís guarantee that they are made from 100% natural materials that are sure to keep you living the organic lifestyle that youíve always dreamed of.
Enjoy the benefits of a fully organic lifestyle with organic blankets, quilts, towels and sheets. With this large selection of organic products, you wonít have to worry about the products your family use again!