Solar Spa Heaters – Alternative Energy Store
Swim in warm water with solar spa heaters for your pool
You can cut costs both inside and outside of the house, including your backyard. Stop wasting money and use solar spa heaters to drastically cut your pool heating bills. You'll find that heating pool water with the sun's power is one of the most efficient uses of solar technology.


You need fewer panels to achieve the desired energy production when you use Gobi collectors instead of plastic pool collectors.... read more


This catalog is currently out of stock.


Please search through our categories for another catalog.


- or -

Shop for solar spa heaters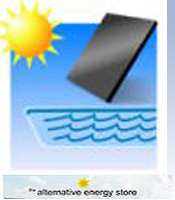 More About Solar Spa Heaters – Alternative Energy Store:
Other great Alternative Energy Store departments:
The Heliodyne 
Closed Loop Solar Pool Heating System is very versatile and can be used for both indoor and outdoor pools. This particular solar spa heaters system can be used in any climate, can provide year-round or seasonal heating and the system will not freeze.


The Fafco - Sunsaver 
Solar Pool Heaters are made for above ground pools. This solar spa heaters system has premium quality, easy installation, superior technology, the highest rated performance and is extremely reliable. Once this system is installed, you and your family can enjoy swimming in warm water from early spring through late fall.
Most solar spa heaters are easy to install and provide months of enjoyment in warm water pools. In addition to using heaters, it's recommended that you also use a pool cover to prevent heating loss during the night.