Catalogs.com Departments

News & Articles

Foot Comfort Products - Luxis International
Foot comfort products provide relief to your feet
No one wants to live with the discomfort of aching feet. Whether your profession demands long hours spent standing or rushing from one place to another, foot comfort products can provide the relief you need.


You don't have to be a doctor or factory worker to appreciate the benefits of foot comfort products. Maybe you just need relief for painful corns and bunions.... read more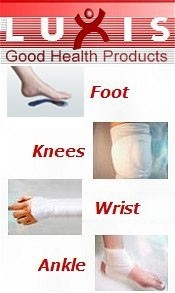 More About Foot Comfort Products - Luxis International:
Other great Luxis International departments:
These products are for anyone seeking comfortable products that make standing, or even sitting, more enjoyable. Choose products for existing conditions or for preventing pain in the first place.


Whether you need foot comfort products for your heels or toes, you'll find what you need at Luxis International. Leather insoles, foot supports, foot cradle insoles, heel cushions, donut heel pads, heel cups, gel-flex heel cushions, heel grippers and bunion regulators are some of the useful products you'll find, all designed to relieve discomfort.
There's no reason for you to live with foot pain when there's a variety of foot comfort products available, all designed with your comfort in mind!