Catalogs.com Departments

News & Articles

Closet Shelf Organizer - Stacks and Stacks
Closet shelf organizer for organizing your closets
A simple closet shelf organizer helps keep everything you need within reach and easy to find.


Get your closets, and your life, in order - When your clothes, shoes and accessories are right where you can see them and reach them, getting ready in the morning is a snap. Organizing your closet with shelving systems allows you to turn even the messiest closet into a neat one.... read more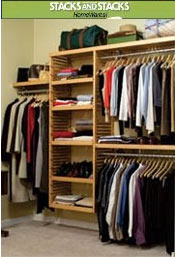 More About Closet Shelf Organizer - Stacks and Stacks:
Other great Stacks and Stacks departments:
Organization in every price range - There's no need to spend thousands of dollars on a closet shelf organizer built by experts. You can enjoy wood shelves in maple or mahogany in deluxe and premier systems, or organize inexpensively with laminate shelving.
Arrange your closet the way you want - With a closet shelf organizer that features adjustable shelves, you control the set-up. Give yourself more room where you need it, while paring down space on little-used items.
With a closet shelf organizer from Stacks and Stacks, you can easily straighten up a messy closet, making your morning routine simpler and quicker.