Catalogs.com Departments

News & Articles

Display Side Table - United Displays of America
A display side table adds beauty and elegance
For small collections of unique items, a display side table is a great space-saving solution that's still as beautiful and impressive as a large table.


If you have an area in your home that needs that special something, try a display side table to fill the space. Do you collect coins, spoons, medals, antique relics or something else? If so, put your treasured pieces beneath a glass top table that will protect them, but allow you to show them off to friends and family.... read more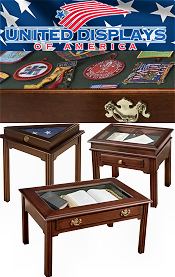 More About Display Side Table - United Displays of America:
Other great United Displays of America departments:
United Displays of America has the perfect display side table that will add class and distinction to any room in your home. Why hide away your valuable collectibles when you can lovingly showcase them in a well crafted table designed to display whatever you choose. Solid, cherry wood and brass combine in a stunning end piece that only adds to your home's beauty.
A display side table is a wonderful way to bring your collectibles and souvenirs out, while keeping them protected and safe at the same time.