Home Decorative Ideas - Soft Surroundings
Home decorative ideas put a unique stamp on your surroundings
With a chic selection of home decorative ideas, you can add elegance to your bedroom and bath, turning these into comfortable oases you'll love to retire to each day.


Plush accent pillows, neckrolls and beautifully decorated Aubusson pillows will look fantastic on your bed, bedroom seating area or even in a lush bathroom. Stuffed with feathers and down, these incredibly soft accents will give just the right touch to any room.... read more



Shop for home decorative ideas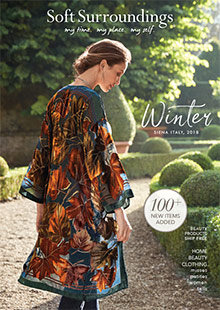 More About Home Decorative Ideas - Soft Surroundings:
Other great Soft Surroundings departments:
Mostly neutral colors work with almost any color scheme, making these home decorative ideas perfect for any style of home.


Bring the beauty of bamboo inside with home decorative ideas such as bamboo trays, tissue boxes and waste bins. Perfect for natural rooms where the style leans toward eco-friendly minimalism or anywhere you want simple, clean decor. But if lush defines your surroundings, then velvet materials and richly carved monogram candles will fit right in. Whatever your personal style, you'll find home accents that complement it.
Soft Surroundings provides you with a range of home decorative ideas that are beautiful, sophisticated and just what your home deserves.