Horse Theme Decor - Back in the Saddle
Horse theme decor adds Western flair to any home
Outfit your home in the horse theme decor you love for a unique and classic touch. From traditional and Western to modern and eclectic, horse theme decor comes in a range of styles to fit any home.


For more traditional types, choose home decor items such as barn signs, horse heaven tray tables, window valances, horseshoe clocks, bucking horse statues, needlepoint door hangers, Christmas tree skirts, placemats, chair cushions, horseshoe shelf brackets and much more.... read more



Shop for horse theme decor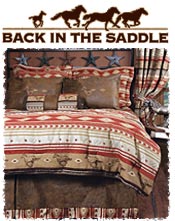 More About Horse Theme Decor - Back in the Saddle:
Other great Back in the Saddle departments:
These horse theme decor items work for any room, including children's rooms if you're looking to add some Western flair!


If you're looking for more eclectic decorating ideas, choose art glass lamps, limited edition Hanoverian sculptures, leaping horse wall art, standing horse bookends, a horse heads planter, fetish horse drawer pulls, Raku spirit horse or a ceramic red horse vase, among many other unique items. Your home can reflect the beauty of these majestic animals in a creative and artistic way!
Back in the Saddle carries a variety of horse theme decor that's sure to fit in with you and your home's unique sense of style.