Catalogs.com Departments

News & Articles

Nautical Theme Home Decor - Waterfronts Nautical
Nautical theme home decor showcases a love of the sea
Bring some of the sea inside with unique nautical theme home decor. You don't have to live at the beach; you only have to have a love of the ocean. These nautical items are sure to showcase your affection for boating or simply being at sea.


Nautical theme home decor for ocean lovers - Bring the excitement of the high seas into your home with these unique items.... read more


This catalog is currently out of stock.


Please search through our categories for another catalog.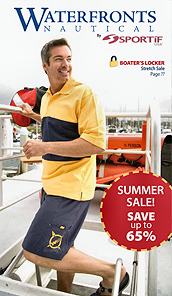 More About Nautical Theme Home Decor - Waterfronts Nautical:
Other great Men's Nautical Clothing departments:
Choose from brass ship's wheel clock, iron tuna sculpture, iron dorado sculpture, ship's bell striker clock, iron sailfish metal sculpture, navigator clock with compass, brass porthole weather station, flag oar coat stand, turtle metal sculpture, nautical print, wooden campaign chest and more!


Indoor and outdoor decor - You can have the beauty of nautical theme home decor inside and outside. Outdoor items include ensign flag mat, captain flag mat, travel blanket, cape town field table and a comfortable double nest hammock big enough for two! No one will doubt your love of the nautical life with these finely crafted home decor items around. Anchors, sea life, ship life and more adorn these home decor pieces that recall the high seas.
For ocean and boating enthusiasts - While these nautical pieces can work on your boat, they'll look just as inviting in your home. Add your water-loving personality to any room with these fantastic home decor accessories. They'll work hanging on the wall, sitting on tables or standing alone as the perfect conversation piece. Do you know someone who can't get enough of nautical accessories? Then any of these items will make a wonderful and thoughtful gift.
Waterfronts Nautical will help you bring the joy of the seven seas right into your home with a great selection of nautical theme home decor. It's perfect for boaters, fishers or anyone who loves everything about the ocean.