Catalogs.com Departments

News & Articles

Silk Plants and Trees - SilkFlowers.com
Liven up any room with ageless silk plants and trees
Are you looking for a low maintenance way to add a special touch to your home? Look no further than lovely silk plants and trees from SilkFlowers.com.


With silk plants and trees, you don't have to worry about dealing with a messy, dirty pot! These lovely potted silk plants and trees require very little maintenance and absolutely no watering! Now, you don't have to worry about remembering to water temperamental bonsai tree! You can have the beauty of your favorite plant or flower without the maintenance and mess!



Is there something missing from your living room? Silk plants and trees are a lovely way to add a special, attractive touch to your room.... read more

Catalogs.com Savings Certificate:


Get Free Shipping on all orders of $75 or more


Enter the Offer Code - CAT75 - at checkout on the Petals website.
Limit one per customer, good on merchandise only, can not be used in conjunction with other offers.


(offer expires: 11-22-2018)

Click to report savings error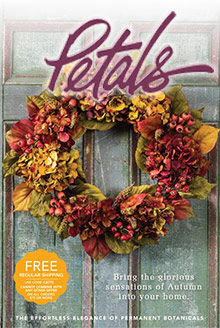 More About Silk Plants and Trees - SilkFlowers.com:
Other great Petals departments:
Do you need a classy centerpiece for your dining room table? Try a unique tabletop plant that will be the perfect conversation piece for your dinner guests.


From wildly adventurous colors to classic, subdued greens, you're sure to find the perfect plant for virtually any room. Silk plants and trees are the perfect way to add loveliness to any room without the mess and clean up real plants require.
You don't have to break the bank in order to add some liveliness to your room! Artificial silk plants are an amazing, cost effective way to add beauty to your home.