Catalogs.com Departments

News & Articles

Silk Topiary Trees - Quality Silk Plants
Add beauty to your home with silk topiary trees
From the front stoop to your living room, silk topiary trees can add a stylish, elegant touch to any room. Whether you're looking for more traditional designs or are interested in a modern touch, silk topiary trees from Quality Silk Plants will add something special to your home.


From attractive, artificial ball rosemary trees to distinctive spiral boxwood silk topiary trees, you're sure to find a style that works for you and your home. This wide selection of silk topiary trees contains unique tree designs that can fit virtually any décor scheme.


... read more


This catalog is currently out of stock.


Please search through our categories for another catalog.


- or -

Shop for silk topiary trees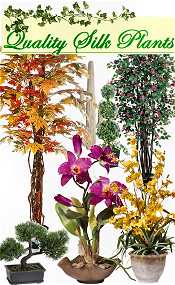 More About Silk Topiary Trees - Quality Silk Plants:
Other great Quality Silk Plants departments:
Silk topiary trees are perfect for almost every occasion. Add beautiful red bows and sparkling bee lights to any one of these unique silk topiary trees to create a festive, Christmas decoration.
Each of these beautiful silk topiary trees are made with high quality materials and made to look as genuine and real as possible. Let the silk plant experts add beauty and distinction to your home!
If you're throwing a party or need classic and striking decorations for a wedding, silk topiary trees are a cost effective and elegant design touch! These lovely trees are perfect in classic planters or you can add your own touch with lights or ribbons. Don't settle for cheap imitators!