Solar Home Power System – Alternative Energy Store
Save money and energy with a solar home power system
With energy costs likely on the rise, it's no surprise that folks are switching to alternative home energy sources, like installing a solar home power system. Whether you want to cut your energy consumption and save money with clean energy, or set yourself up for a lifestyle off the grid, the Alternative Energy Store has everything under the sun to go green and save green.


Feel right at home with a solar home power system -- the Alternative Energy Store can set you up right with a complete kit or all the elements to customize your own solar home power system – including solar panels, solar tracking arms, solar water heaters and other innovative solar power supplies.... read more


This catalog is currently out of stock.


Please search through our categories for another catalog.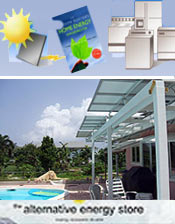 More About Solar Home Power System – Alternative Energy Store:
Other great Alternative Energy Store departments:
Get a portable solar home power system for your RV or boat -- and take your clean power on the road with compact units that let you minimize your need for connections as you travel. Solar and wind electric systems can both be used effectively to charge the large battery bank in an RV or a boat, giving you more flexibility and freedom.
See what's cookin' in energy-efficient appliances -- the Alternative Energy Store has a wide selection of battery (DC) and 100% gas refrigerators and freezers for completely electricity-free operation….the Global Sun Oven, the #1 solar appliance…plus energy-efficient tankless water heaters and washing machines that provide maximum performance at minimum cost.
Put wind, sun and water to work at home -- find everything from wind power generators, solar panels, and micro hydro turbines, to home power cells, solar power inverters, and solar battery chargers and controllers. The power is in your hands at Alternative Energy Store.