Catalogs.com Departments

News & Articles

Solar Power Appliances – Alternative Energy Store
Saving money is only natural with solar power appliances
Solar power appliances sound intriguing, but do they really deliver the kind of performance you've come to expect from your home appliances? Absolutely! If you're looking to save money and go green through alternative energy sources at home, it's only natural to give solar power appliances a serious look. And you can find all kinds of solar power appliances at the Alternative Energy Store.


For the best in solar power appliances, there's no better source -- shop solar water heaters, solar water pumps, solar air heaters, solar attic fans, solar lanterns, solar pool heaters and pumps, and other innovative solar power options, including the Global Sun Oven, the 1 solar appliance.... read more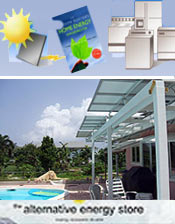 More About Solar Power Appliances – Alternative Energy Store:
Other great Alternative Energy Store departments:
See what else is hot in energy-efficient appliances -- including a wide selection of battery (DC) and 100% gas refrigerators and freezers for completely electricity-free operation, plus LED lights, tubular sky lights, tankless water heaters, and more.
When it comes to solar power systems, find everything under the sun -- set yourself up right with a complete home solar power kit or all the elements to customize your own solar power system for your home, business, RV or boat.
Let wind, sun and water make your home run in the most efficient way possible -- find everything from wind power generators, solar panels, and micro hydro turbines, to home power cells, solar power inverters, and solar battery chargers and controllers. The green possibilities are endless!
Get turned on to living life off the grid -- along with complete off-grid residential packages, find individually sold components, including solar panels and mounting systems, combiner boxes, charge controllers, inverters, and solar batteries.