Catalogs.com Departments

News & Articles

Clean Home Solutions - Whatever Works
Clean home solutions make the dirtiest jobs easier
Instead of spending all day cleaning your home, try clean home solutions designed to make these dirty jobs go by quickly and easily! Now you can have more time to spend on the things you want to do.


Clean home solutions are great for helping you get your indoor and outdoor areas spotless without spending all day scrubbing. Choose from effective cleaners like tarnish removers, grout and tile markers, air blaster drain cleaner, sani clean drain sticks, rust treatment, cabinet grease remover, liquid bathtub cleaner and more.... read more



Shop for clean home solutions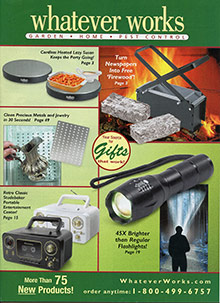 More About Clean Home Solutions - Whatever Works:
Other great Whatever Works departments:
Elbow grease is great, but clean home solutions are even better! Now you don't have to spend hours cleaning your kitchen, bathroom, patio or deck. Just use these easy cleaning tools and accessories to make cleaning a snap. Your home can be spotless inside and out without a ton of work. Whatever Works wants to make your life easier with a variety of clean home solutions that save you time and energy!
Get rid of dirt and grime quickly and efficiently when you use the right cleaning gadgets and accessories, and spend more time relaxing in your clean home.